Wrought Iron Doors are a stunning option for your home that offer so many benefits. If you are looking into picking a wrought iron door for your new entryway we are here to give you all the information you need to make an informed decision.
Advantages to choosing a wrought Iron Door
Endless Design Variations
As you start your journey looking into wrought iron doors you'll find there are endless styles and designs to pick from. With options that allow you to create your own dream door and work with a hands-on team to bring your ideas to life!
As Well As some additional choice like the handles to create a stunning pull. A large variety of glass colors and the color of metal/s your door will be.
Durability & Easy Maintness
Wrought Iron Doors are sturdy heavy-duty and offer great security for your home. They won't get damaged from changing weather and are water and fire-resistant. They are very long-lasting and require little upkeep.
Due to their Iron material and finish they are also rust-resistant.
Energy Efficient
Quality Wrought Iron doors come insulated which allows your home to be temperature colored keeping the warm air in and the cold air out! They will also often feature double-pained insulated glass that will keep consistent with the temperature control. These glass panels also allow way more natural lighting to your home. Which will brings warmth and better lighting to your home. Additionally, they often include weather strips around the window seal and bottom of the door to offer further insolation.
Finding the Best Quality Doors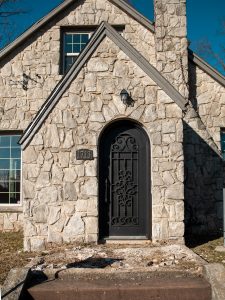 When looking into ordering your door you want to make sure to get it from a reputable company.  There are specific things you will want to pay attention to when looking into the market for a wrought iron door.
Made with 12 gauge tubing
Solid forging
functional designs
full foam insolation
Dual paned operable glass offering easy cleaning and ventilation.
Weatherstrips for insulation and leaks
Primed and rust-resistant
Predrilled for locks and handles
Solid and strong brackets on the door for an easy and solid installation
Strong ball bearing hinges
We offer custom wrought iron doors with all the best quality aspects. When looking for a stunning wrought iron door look no further than our gorgeous MCF wrought iron doors! Click here to shop now!
Cons of ordering a wrought iron door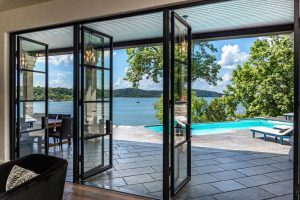 Due to their durability and metal base, they are extremely heavy and will need a professional installation. They are also at a higher price point compared to most other door options but will end up offering you an extremely durable stunning door that will add equity to your home. Another con that can come is a long fabrication time for custom designs or not having the style/ color in the size you are needing.
Who should get a wrought iron door?
Overall wrought iron doors never disappoint with their stunning appearance and long-lasting durability. They are a wonderful option for someone who is building or remolding and wants to increase the style of their home with one of these luxurious doors. Due to their higher price they may not be the best option for someone who has a tight budget or who needs a door immediately. For those who are early in their home building or remodeling process and/or would like to add equity with the home a wrought iron door will be perfect for you. Check out our wrought iron doors here and get started on designing your dream door!